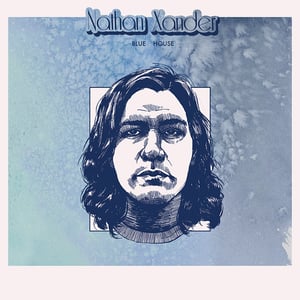 $

10.00
Nathan Xander is a troubadour in the Texas sense, when he's in Texas. Or in the California sense when he's there. Or the Chicago sense, oh, OK. You get it. The man writes like he travels: well and often. He's as familiar with Brooklyn as his hometown of Union City, PA, Gillian Welch as with X. Nathan's new collection of songs, recorded in a big blue barn in Upstate New York, is his best work to date, and we at Trailer Fire Records are thrilled to share it with you.
Blue House (07/17 Trailer Fire Records) represents the work of a writer in the prime of his craft. Nathan's years of touring, with their joyful wildness and melancholy, come through in these songs. "Over You, Over Me" evokes that duality, while songs like "Shadows" growl and pulse with the frivolous energy of an artist who likes to break things. "Pennsylvania" is as anthemic a song as ought to be written, a wholehearted Mellencamp-esque thumper about home, while "I Remember You Now" is a psychedelic memory in homage to friends Xander has met along his traveler's way. Each of the songs here are evidence of experience, which Nathan has in spades.
The Deli says Nathan "conjure[s] memories of smoke and sawdust." Reglar Wiglar claims his writing "definitely gets to the heart of matters of the heart." These recordings, as much as the band Nathan assembled, serve to underscore what his work represents: a life in pursuit of a good damn song. Blue House will not disappoint.
To Order CD or Cassette, visit: https://nathanxander.bandcamp.com
1. Mount Washington
2. (What It Takes To) Make a Man
3. Over You, Over Me 03:44
4. You're Never Wrong
5. Peter and Sam
6. I Remember You Now
7. Enoch's Blues
8. Unknown Road
9. Old Boots
10. Shadows
11. Pennsylvania
12. Day to Day